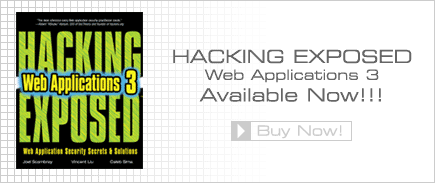 Since 1999, Hacking Exposed has educated millions of readers about the ease of hacking into computer networks and systems. Hacking Exposed: Web Applications shows you how to meet this challenge with the two-pronged approach adapted from the original Hacking Exposed, the best-selling digital security book of all time.
First, we catalog the greatest threats your web application will face and explain how they work in excruciating detail. How do we know these are the greatest threats? Because we are hired by the world's largest companies to break into their web applications, and we use them on a daily basis to do our jobs. Once we have your attention by showing you the damage that can be done, we tell you how to prevent each and every attack.
Hacking Exposed: Web Applications - and this website - are edicated to bringing your web apps' security back under control. We sincerely hope that all of our many years of experience translate into tremendous time savings for those of you responsible for securing web apps.
-- Joel Scambray, Vincent Liu, and Caleb Sima
---
Notable
Hacking Exposed Web Applications and co-authors Joel Scambray and Caleb Sima star in the "Oceans 11" of computer security: The Code Room Vegas. Check out this 28-minute video dramatizing 3 real-world hackers who take down a Vegas casino (or download your own copy).

(More News...)